Type: Bug

Priority: Low

Resolution:

Third Party to Resolve

Affects Version/s:

12.0-U1

Labels:
Before upgrading from 12.0-RELEASE, everything works fine but after the upgrade to 12.0-U1 my system hangs on at mpr0: Reinitializing controller during boot screen.
For now, I've just boot with FreeNAS-12.0-RELEASE enviroment back again.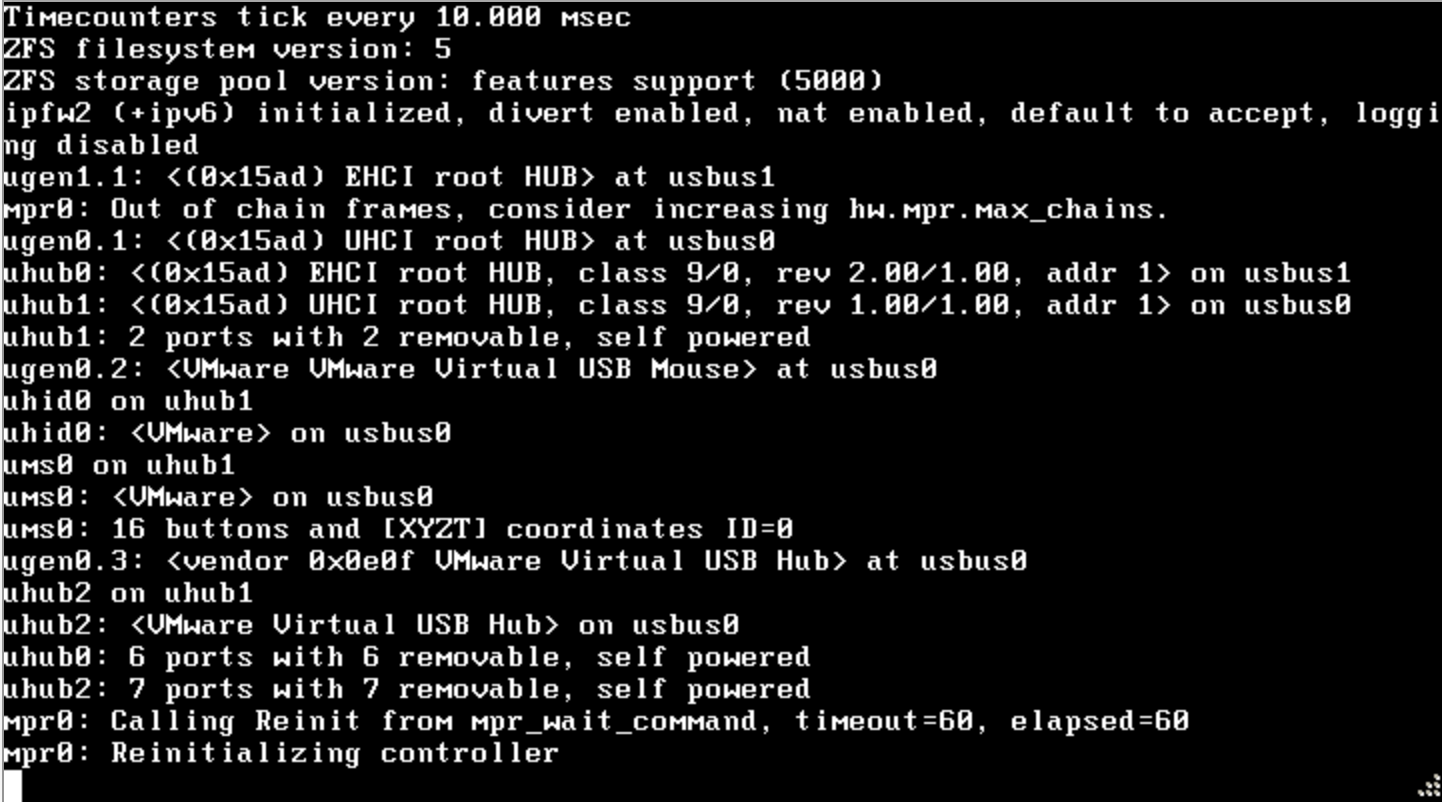 All of my other 3 systems work under esxi hypervisor with same version (6.7.0U3) but only one of them has that issue. All other systems has native LSI HBA but this one has Dell's HBA330 mini controller. Here's the chassis info;
Chasis: Dell R730xd
CPU: 2x Intel(R) Xeon(R) CPU E5-2695 v3 @ 2.30GHz
RAM: 128G
OS: ESXi 6.7.0U3
HBA: Dell HBA330 mini (Passthrough)
Adapter Selected is a Avago SAS: SAS3008(C0) 
Controller Number : 0 
Controller : SAS3008(C0) 
PCI Address : 00:03:00:00 
SAS Address : 5d09466-0-92d9-8600 
NVDATA Version (Default) : 0e.00.00.36 
NVDATA Version (Persistent) : 0e.00.00.36 
Firmware Product ID : 0x2221 (IT) 
Firmware Version : 15.15.06.00 
NVDATA Vendor : LSI 
NVDATA Product ID : Dell HBA330 Mini 
BIOS Version : 08.35.02.00 
UEFI BSD Version : 17.07.01.00 
FCODE Version : N/A 
Board Name : Dell HBA330 Mini 
Board Assembly : N/A 
Board Tracer Number : N/A

If there's any data that I can generate to help further investigate, please let me know.
relates to

NAS-108881 Panics on mps(4) firmware timeouts

Done